Preserve Your Smile with Tooth-Colored Fillings
If your smile has​​ ​sustained​ ​damage​ ​due to​ ​decay,​ ​it​ ​is​ ​important​ ​to​ ​restore​ ​your teeth in a timely manner to avoid issues like infection or tooth loss. Tooth-colored fillings can repair the structural integrity of your smile and provide natural-looking results. ​At​ ​Han & Ahn DMD, PC in McLean, VA,​ ​we can identify any signs of decay and place a composite filling that blends with your natural enamel. We are dedicated to your comfort during every stage of treatment and offer sedation options for patients who feel especially anxious about undergoing treatment.
The Importance of Timely Treatment
Over time, decay can spread from the outer layers of a tooth to the innermost portions. Once decay reaches the central cavity, known as the pulp, it can cause infection and significant discomfort. At that point, root canal therapy is the only restorative treatment that can salvage the tooth. If left untreated, the tooth may need to be extracted to preserve your oral health and protect you from more widespread tooth loss. As such, you should contact us immediately at the onset of symptoms.
Common Signs
Cavities may not present with noticeable symptoms in their earliest stages, though your doctor will be able to detect them. However, as a cavity worsens, patients can develop:
Pain when biting into food
Staining on the surface of teeth
Dental sensitivity
A visible hole in the tooth
Toothache
It is vital to schedule biannual checkups so we can identify signs of decay early on and save you from more extensive restorative procedures. We use advanced CariFree® testing to assess your risk of decay as well as DIAGNOdent™ to detect the smallest of cavities.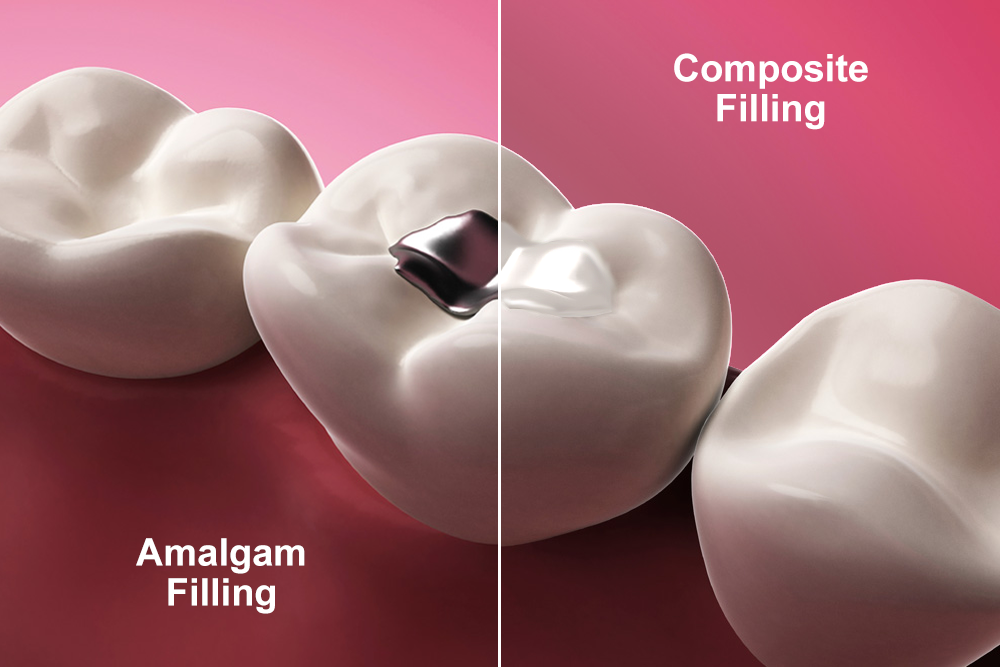 Composite Resin vs. Amalgam
In the past, dentists used amalgam material to fill cavities. This mixture contains silver, copper, tin, and mercury. Amalgam is highly visible and also expands and contracts with temperature fluctuations. As a result, teeth restored with amalgam were more likely to fracture as a result of treatment.
These fillings form a strong bond with teeth and allow us to preserve more of your natural tooth structure when preparing for placement.
As dentistry has advanced, doctors are now able to provide patients with tooth-colored fillings. This composite resin material is comprised of glass and plastic particles, which are tinted to match the natural shade of your smile. Tooth-colored fillings not only provide attractive results, but do not change shape with changing temperatures. These fillings form a strong bond with teeth and allow us to preserve more of your natural tooth structure when preparing for placement.
The Dental Filling Procedure
Before beginning treatment, we may perform a series of digital x-rays to determine the extent of decay. If you require a dental filling, you can expect:
Anesthesia: To ensure your comfort, we can administer local anesthesia to numb the area. For patients who are especially nervous about visiting the dentist, we offer other forms of sedation to set your mind at ease.
Tooth Preparation: We can thoroughly clean the tooth and remove compromised tissue. Once your tooth has been prepared, we can use a guide to select the shade of resin that most closely resembles your natural enamel.
Composite Resin Application: We can then carefully apply the material in layers. Using a curing light with ultraviolet technology, the dentist will harden the resin and reinforce the structural integrity of the tooth.
Final Adjustments: The dentist can remove any excess composite resin to ensure the material does not disrupt your bite. If no modifications are needed, we can polish your tooth to add the finishing touches.
If you have any additional questions or concerns about the procedure, our friendly team would be more than happy to assist you during your consultation.
Repair Compromised Teeth Today
If you are currently experiencing any dental sensitivity or ongoing tooth pain, you may have a cavity. Addressing decay in a timely fashion can help save your tooth and prevent the need for more costly and extensive restorative treatments. To schedule your consultation at our practice, please contact our office online or call (703) 356-7001.