Dentistry & Art in Harmony
A Focus on Preventative Health
Keeping your teeth healthy is an integral part of your overall well-being. At Han & Ahn DMD, dental cleanings are anything but routine. Our doctors use the latest preventative care methods, including VELscope, salivary diagnosis, cavity detection, and specialized technologies to provide patients with early diagnosis or treatment of oral cancer and infection.

If there are any concerns about the state of your oral health, our McLean, VA, dentists can identify the issue, offer information on your options, and provide the necessary care to restore you to good health as soon as possible. These important diagnostic tests are crucial to the well-being of our dental patients and are quick, easy, and painless.
"Throughout my treatment, Dr. Han was very conscientious. His techniques are gentle and he fully explained each procedure. His attention to detail and need for perfection gave me a smile I absolutely love. I cannot recommend him highly enough." Karuna S.
Showcase Your Inner Beauty
Smile design
provided by our dentists is a distinctly personal process, intended to showcase your inner beauty.
You may be closer to a stunning look than you realize
and our dentists tailor your
cosmetic dental care
to meet your unique needs. Combining
outstanding dental training and an uncompromising dedication to artistry
allows
our dentists
to deliver gorgeous results for patients at our McLean, VA, dentistry office.
A smile makeover from our dentist can highlight your natural beauty by bringing your smile into harmony with your unique facial characteristics. Skin tone, facial proportions, and eye color and shape are all relevant to designing a beautiful smile. No detail goes overlooked, and our dentists invest the time and planning required for the most eye-catching outcome possible for our patients.

Cosmetic care is not covered by insurance but we offer several options to make your treatment more affordable. We accept major credit cards and CareCredit® and offer in-house financing. Patients who put 50 percent down can receive interest-free financing on the remaining cost. For treatment that is partially or fully covered, we accept all PPO plans.
"Top-Notch!"
I recently had crown lengthening surgery performed by Dr. Han which went flawlessly and did not feel any discomfort. Throughout the surgery I was informed of every step along the way. This is one of top dental offices in the DC area as well as the office staff is top-notch! Overall I am thrilled that I switched dental practices and will be coming here for years to come.
View On Google
Dr. Ahn and Dr. Han are great, and the office support is amazing. They worked with me on my insurance and reimbursements after my benefits changed and I'm always grateful for their flexibility. My experiences with my orthodontics as well as the oral surgery I needed was overwhelmingly positive.
View On Google
Transforming Lives
One Smile at a Time
If you are looking for a dentist in McLean, VA, who is dedicated to maintaining and renewing optimum oral health through comprehensive care, you have come to the right place. Drs. Han and Ahn are Ivy-league trained specialists who will not disappoint you and will provide all the information you need to remain engaged in your care. We foster a multicultural environment and a family tradition–everyone at the practice has multiple relatives who also work in the dentistry field.
The dentists at Han & Ahn DMD, Drs. Daniel (Sok Woong) Han, Sooyeon Ahn, and Lara Saleh, are experts in the fields of preventative care, restorative and cosmetic dentistry, fixed prostheses, periodontics, implantology, and orthodontics. The doctors have designed their McLean, VA, practice to meet all our patients' dental needs in a comfortable environment with a team of oral specialists.
Dr. Han is dual-certified in periodontics/implantology and periodontal prostheses (fixed prosthodontics), as well as periodontics by the University of Pennsylvania. Dr. Ahn specializes in the field of orthodontics. She is a board-certified orthodontist who has been voted as a Top Dentist by Washington Moms. Rounding out the practice, Dr. Saleh is a pediatric dentistry expert.
For more information, or to schedule an appointment, contact us online or call our McLean, VA, dental office:
Dr. Daniel SW Han
Dr. Han is highly regarded as a true expert in comprehensive dentistry by the dental community. He specializes in periodontology/dental implantology and cosmetic/fixed prosthodontics, Dr. Han attended dental school at the University of Pennsylvania, School of Dental Medicine. Upon receiving his Doctorate of Dental Medicine (DMD), he continued his specialty training at the University of Pennsylvania, achieving dual specialty certificates in periodontics/implantology and periodontal prosthesis where he graduated as the top resident of the year. Dr. Han is a dual specialist. He is one of the few perioprosthodontists in the state and one of the youngest surgeons in perioprosthodontics. He is also one of few practitioners in the East Coast who can combine periodontics and prosthodontics in this particular way. He is a certified dental laser expert in LANAP/LAPIP (laser assisted periodontal/implant surgery) protocol. Lastly, he was voted one of the top dentists in the U.S. several years by his colleagues in Northern Virginia Magazine.

Dr. Daniel Han is a member of a number of prestigious professional associations including the American Dental Association (ADA), Virginia Dental Association (VDA), Northern Virginia Dental Association (NVDA), American Academy of Periodontology, and American Academy of Cosmetic Dentistry (AACD), and is recognized as a diplomate of the American Board of Periodontology.
Dr. Sooyeon Ahn
Dr. Ahn received her Bachelor of Science degree in Molecular and Cellular Biology from the University of Illinois at Urbana-Champaign. She was accepted into the University of Pennsylvania, School of Dental Medicine for dental school where she was awarded a full scholarship for her Doctorate of Dental Medicine. After graduating with honors and distinction, Dr. Ahn enrolled in the post-doctorate program at the University of Pennsylvania, where she received a postdoctoral certificate in orthodontics. Dr. Ahn was voted as a top Orthodontist by "Washington Parent's Mom-Approved".

Dr. Sooyeon Ahn is a member in good standing with professional associations including the American Association of Orthodontists (AAO), American Dental Association (ADA), Virginia Dental Association (VDA), and the Northern Virginia Dental Association (NVDA).
Our Professional Affiliations
Upper and lower arch implants with a dental prosthesis transformed this patient's smile.
"Amazing Work!"
Never had a better experience! Very gentle and they do amazing work! Words cant express how good they are. Truly the best at what they do.
View On Google
I had 24 months of braces treatment done here and I couldn't be more happy. Friendly and wonderful service. Never had any problems, and I always left the office feeling confident in my treatment. Would recommend to anyone!
View On Google
A missing tooth or teeth can do more than have a significant effect on your comfort, ability to speak clearly, and cause embarrassment. When you lose a tooth, the gap has an impact on the state of not just your oral health, but your overall health as well.

The roots of a tooth do more than hold the tooth in place–they also stimulate the bone tissue in your jaw. Without this stimulation, the jawbone begins to atrophy. As this deterioration continues, surrounding teeth begin to shift, and your face begins to appear sunken and aged. The only dental treatment available that can stop further bone loss is dental implants.

The titanium base of dental implants work in the same fashion as the roots of a missing tooth and provide the jawbone with the necessary stimulation to cease any further atrophy. We partner with Horizon Anesthesia to provide world-class sedation services for our patients.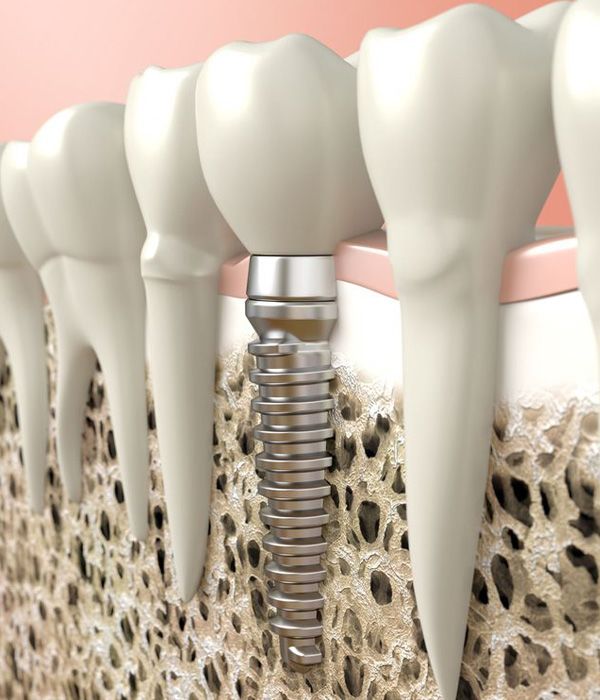 Orthodontics
Straightening crooked teeth can improve the appearance of your smile and the function of your bite. Dr. Ahn uses advanced technologies, techniques, and materials to provide a full range of orthodontic options to the community of McLean, VA. Depending on the particular needs of yourself or your family, our dentists can provide you with traditional metal braces, or the discreet Invisalign® treatment plan. You can learn more about the orthodontic options provided at our McLean, VA, dentistry office during a visit with our team.
Dental Crowns
A tooth damaged by trauma or severe decay can cause a number of issues, from pain and difficulty eating to trouble with clear speech. Our McLean, VA, dentists can treat a compromised tooth with a dental crown. Restore and protect the state of your dental health with a durable solution that provides natural-looking results.
Teeth Whitening
Are you unhappy with stained or discolored teeth? Professional whitening treatments can address nearly all types of staining far more effectively than over-the-counter products. Our dentists can dramatically transform your smile in a single treatment. Enjoy the benefits of a brighter, whiter, and more brilliant smile with teeth whitening at Han & Ahn DMD in McLean, VA.
A Better Way To Treat Gum Disease
Our practice is excited to introduce LANAP with PerioLase, a sophisticated laser-based approach to treating advanced gum disease. When pockets of bacteria form between the gum tissue and your teeth, it is very important to eliminate the bacteria and encourage the reattachment of the soft tissue. This traditionally required using a scalpel to access the treatment area, followed by the placement of sutures to close the incisions.
Instead, we insert an ultra-fine fiber optic delivery system into the treatment area to deliver laser energy that eliminates bacteria, leaves healthy tissue undisturbed, and spurs healthy tissue regeneration. There is no downtime, no sutures, and in many cases, no need for pain meds. PerioLase is just one of the many ways we are using technology to deliver better results to our patients.
The combined specialized training of our dentists makes our McLean, VA, practice uniquely all-inclusive and convenient for patients seeking a full range of dental care treatments under one roof.