Powerful Orthodontic Treatment with Braces
If your teeth are severely misaligned and causing you discomfort, you may be a good candidate for traditional braces. Straightening your smile with braces can relieve self-consciousness, improve the alignment of your bite, and prevent potential dental and health problems. Dr. Sooyeon Ahn can determine whether traditional orthodontics are right for you during a visit to our McLean, VA, dental office.
Orthodontia Basics
Traditional braces usually consist of a wire connecting a series of metal brackets over the teeth. Over a period of 18 months to four years, Dr. Ahn will periodically tighten the wire with specialized rubber bands to gradually pull the teeth into the preferred alignment.
Braces are traditionally used to correct malocclusion. Defined as any misalignment of the teeth that occurs when the jaw is closed, some of the most common types of malocclusions include cross bites, underbites, and overbites, as well as crooked, widely or unevenly spaced, or crowded teeth. Without orthodontic treatment, these issues can lead to more severe problems, such as gum disease, tooth decay, TMJ disorder, and other complications.
One of the biggest benefits of traditional braces is their strength. Though not as aesthetic as Invisalign®, braces can address severe misalignment much more effectively.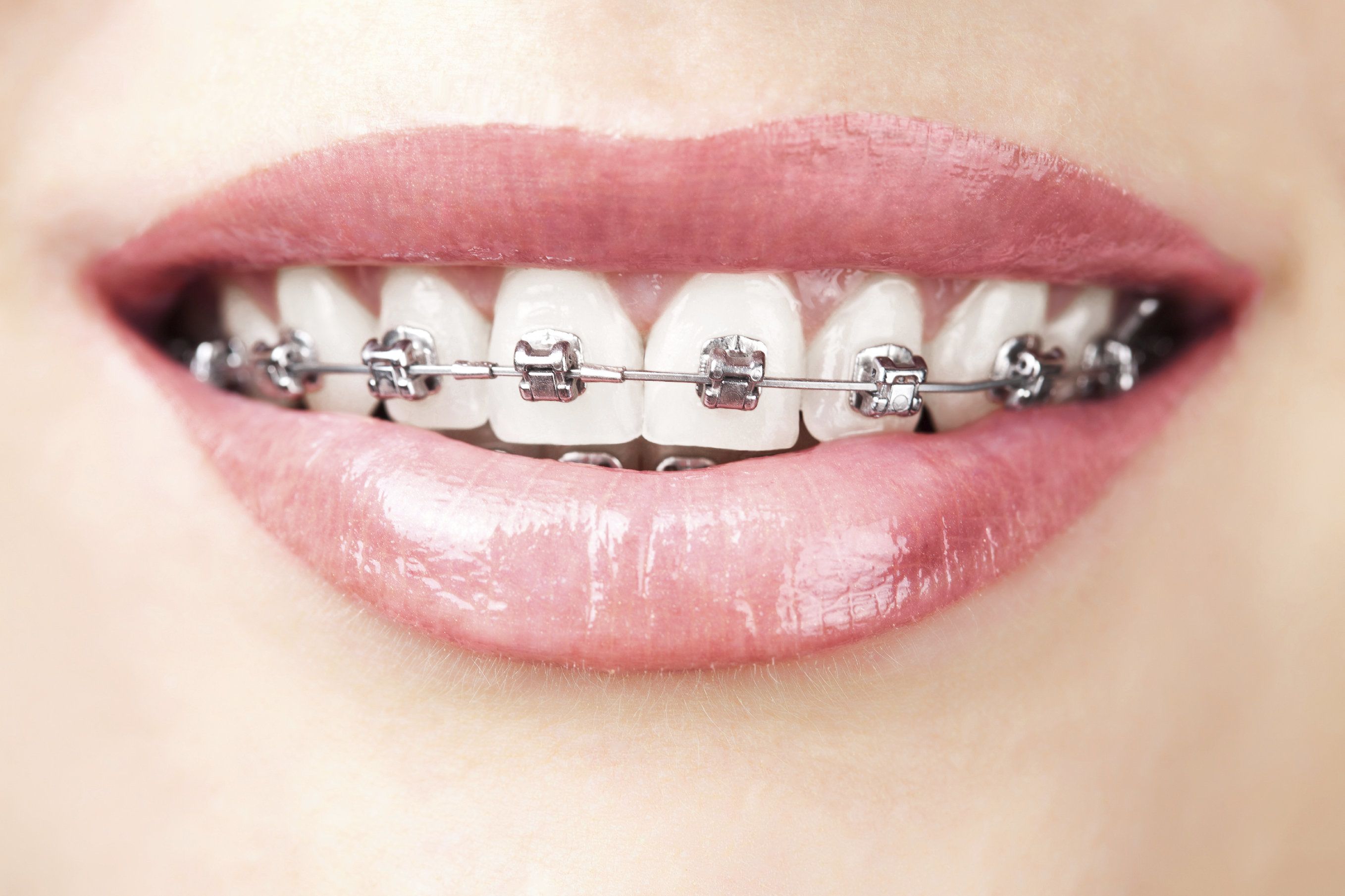 Candidates for Traditional Orthodontics
Braces are a suitable treatment for both adults and younger patients. However, they are most often recommended to teenagers, whose teeth have fully developed but whose bones are still malleable enough to allow for realignment of the teeth.
In some cases, early intervention may be required for even younger patients with severe bite and alignment issues. Typically, we can determine if a child is going to have an overbite, underbite, or crowded teeth by their seventh birthday. Because the roof of the mouth is still developing, we can also use expanders to make more room for teeth, if necessary. If these more severe problems are not corrected during childhood, teens and adults may require a longer treatment timeline or even tooth extractions later in life.
What to Expect
Traditional braces may be worn for as little as 12 to 18 months or as long as four years, depending on the age of the patient and the severity of orthodontic issues. Adults frequently require longer treatment than children and teens because their teeth and bones are less malleable.
After removing your braces, Dr. Ahn will provide you with a custom retainer and instructions on use, so you can maintain your newly realigned smile.
Once you have been fitted with braces, you will see Dr. Ahn periodically for tightening and adjustments to ensure your teeth and jaw are properly shifting. You will need to avoid certain foods while wearing braces. Hard candies, chewing gum, corn on the cob, popcorn, and even ice can damage braces or become lodged in your teeth.
At the end of treatment, you will ideally have straight teeth and a healthier, more confident smile. After removing your braces, Dr. Ahn will provide you with a custom retainer and instructions on use, so you can maintain your newly realigned smile.
Straighten a Crooked Smile
At our practice, we are dedicated to ensuring that our patients are happy and healthy. If you have crooked, overlapping, or widely spaced teeth, reach out online or call us today at (205) 595-2626 to schedule an orthodontic consultation with Dr. Ahn.